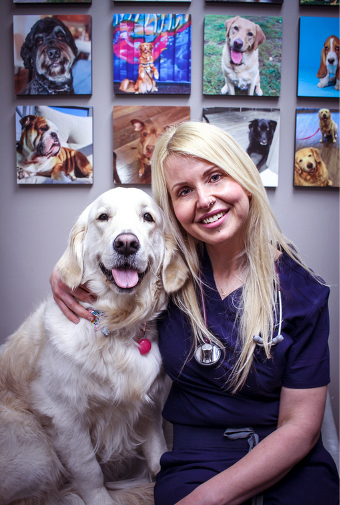 Dr. Ellen Kinzl
Veterinarian/Owner
My name is Ellen Kinzl and I'm so happy to be fortunate enough to open my first animal hospital here in Liberty Village.
For most of my career since graduating from the Ontario Veterinary College in 2006 I have worked in emergency medicine in referral hospitals in the GTA as well as in Sydney, Australia alongside an extensive amount of board certified specialists.
This has been a wonderful time of my life as I have gained a tremendous amount of important experience in veterinary medicine. It has been challenging and fast paced, but what I found to be lacking was a close relationship with pet owners and having a consistent presence with clients and their pets.
That being said, I am so very much looking forward to be part of you and your pet's life helping to keep them as healthy as possible. I love chatting and encourage you to drop in any time to say hello and meet my team and I :)
I love my work as a veterinarian but I also love my free time. I'm a self proclaimed travel addict and have been so lucky to have been able to see so many wonderful and exotic places in the world. Several whitewater rafting trips have lead me to these places including South America, Nepal, India and Africa. I could literally talk about traveling for hours! If you're ever in the neighbourhood and have some free time and are like-minded stop by to share experiences!